Welcome To Lincoln's #1
Web Design Agency
Lets Dive Into Our Website Designing Process.
Introductions & Discovery
We take the time to learn about you, your company and your industry so we can be prepared to best represent you. We review your current site to determine how we can help.
Planning Session
Using our marketing-centric approach, we kick off your web project with a detailed strategy discussion. We will discuss the goals of your company and of your new website.
Conversion Strategy
Next, we create a conversion strategy to map out how your new design and content will meet your business goals. This information will be shared with our design team, as well as our content writers and SEO experts.
Custom Web Design
Our team uses the strategy to design and develop a powerful site that will push visitors to take action and turn into profit from sales.
Training
Since your site will be built in a framework that enables you to adjust your content, our team will provide all the necessary training for you to keep your site current.
Testing & Go Live
Once everything is approved, we will put your new site live and watch as it turns into a sales powerhouse, creating leads and profit.
Don't Take Our Word For It
From our first meeting, Kevin understood the vision we had and shared his passion for designing a vibrant, interactive website.
Kevin's grasp of our concept and his expertise in designing a website with great mobile functionality came through in our finished product.
One very important aspect of our site was an online application and payment process. Kevin designed the form and implemented the process. We had five completed and paid applications in the first week; one was from a prospect that was not on our radar; talk about ROI. We are very pleased. Overall it was a great experience, and I would recommend Kevin's work to anyone."
Liam Burke
Compliance Director – College of Hair Design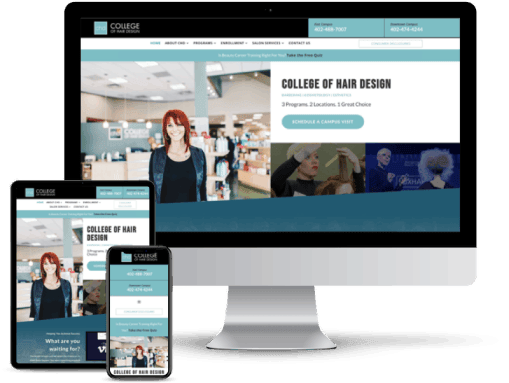 Whether is a beautiful and conversion-focused web design, high-quality content, or a digital marketing strategy, we can help your business stand out.